All watch connoisseurs know that Richard Mille's first release came in 2001, with the RM001 Tourbillon – a revolutionary watch which you can read about here.
But what if we told you that that's not technically true?
Okay, yes. Richard Mille as a brand was founded in 2001, when Mille was around 50 years old. However, his first taste in horology came in the form of work experience at Finhor, a small watchmaker in his French hometown of Draguignan. In 1974, this watchmaker was taken over by the "larger" Matra.
Now, this is where the story unfolds….
The year was 1981, and a young up-and-coming 30 year-old Richard Mille had just been promoted to general manager of this new company, which worked with brands such as Yema. In 1992 however, Richard Mille left this position to go and start up a watch division for the French jeweller Mauboussin.
Over the course of these 11 years as general manager, it is very likely that Richard Mille envisioned and brought his first watch to life, only that it bore the Yema brand.
Buckle up, folks, because we think we might have found just the one(s).
We scoured the Yema catalogues from that time, and we found one or two that have clear Richard Mille DNA and design cues. Could be a coincidence, but we think that even back then, Mille had a solid idea and plan for totally revolutionising the world of haute-horology.
Right, enough talk – let's begin. Here's the first one: the Yema Bipôle "North Pole".
Richard Mille was tasked with creating a real and proper "tool" watch. One with unique features, separating itself from those who try to be one: this was to be a no-nonsense timepiece for professionals.
This "built for purpose" philosophy is one that is engrained into every single modern RM.
Mille was told "no-nonsense" because the Yema Bipôle North Pole was to become the trusty companion to Jean-Louis Étienne, a fearless doctor, scientist and explorer – basically a real life Indiana Jones – as he became the first man to march (yes, on foot) to the North Pole. Solo. But the 63 day expedition was by no means a lonesome one: the man had his watch. No one or thing to rely on, except for his purpose-built timepiece.
This is a fundamental trait that Richard Mille believes in, one in which every watch that comes out of their manufacturing facility has a purpose. It's not horology for the fun of it; it's not "useless complications", never destined to be used… No, each watch was designed and built with a very specific role in mind. It therefore comes as no surprise that traditional complications such as perpetual calendars, Moon-phases, Equation du temps, minute repeaters, etc. aren't present in the company's DNA. That's not to say it's a bad thing – it's just not who they are.
Quite often, RMs are made for specific indiviuals in mind.
Take the RM11-01 and the RM11-04 Mancini, which features an intelligent flyback chronograph which enables the Italian football manger to keep an eye on the time elapsed in each half, even helping to take injury time into account.
Or the RM70-01, made for the ex-F1 Champion turned cyclist Alain Prost, which has a never before seen odometer function, helping the French athlete keep track of how many kilometres he has cycled.
Another timepiece for a specific individual with a specific function? Enter the RM61-01 Yohan Blake. This timepiece, built for the Jamaican sprinter, has an asymmetric case, making it more aerodynamic (whilst also being incredibly light: it is a Richard Mille, after all). The list goes on, with numerous individuals and models, both for men and women alike.
---
1989: the Yema Bipôle gets a sequel – the Duopoly
This timpiece was envisioned for the same French trail-blazer, but with a different purpose for a different adventure.
The Yema Bipôle Duopoly accompanied Étienne and 5 other scientist-explorers for 7 months, beginning in July 1989, as they embarked on their arduous dogsled expedition to the South Pole. The Duopoly had two faces, or dials, so that each one would be adapted for the respective poles.
Both of these watches were equipped with quartz movements, for the simple reason that mechanical watches would have most certainly malfunctioned due to elevated polar magnetic fields. Also, the extremely low temperatures would have definitely had a negative impact on the lubricant oils of the mechanical movement.
This watch certainly has a "futuristic" design for its time. Sound familiar? Sure does – we are indeed witnessing Richard Mille's early visions, made even more impressive by the fact that his watches ventured to both poles.
What similarities does it bear to modern Milles? Just to name a few:
A hefty 48mm case – enormous by the standards at the time
Titanium case
Skeletonised movement
Anti-reflective sapphire crystal
Limited to 1500 pieces
As well as this, it's one of the first, if not the first duo-face wristwatches.
Patek Philippe had already created a duo-face timepiece in 1933: the ultra-complicated "Graves" (N° 198 385), for Henry Graves Jr. This however, was a pocketwatch. Their first duo-face wristwatch, the ref. 5002 Sky Moon Tourbillon, wouldn't be released until 12 years after Richard Mille's Yema. To make things even more exciting, Jaeger-LeCoultre's first iconic Reverso Duo-Face premiered in 1994, a full 5 years after Yema's conquest. Are we looking at a first of its kind?
Check out the below photos to see the North and South faces!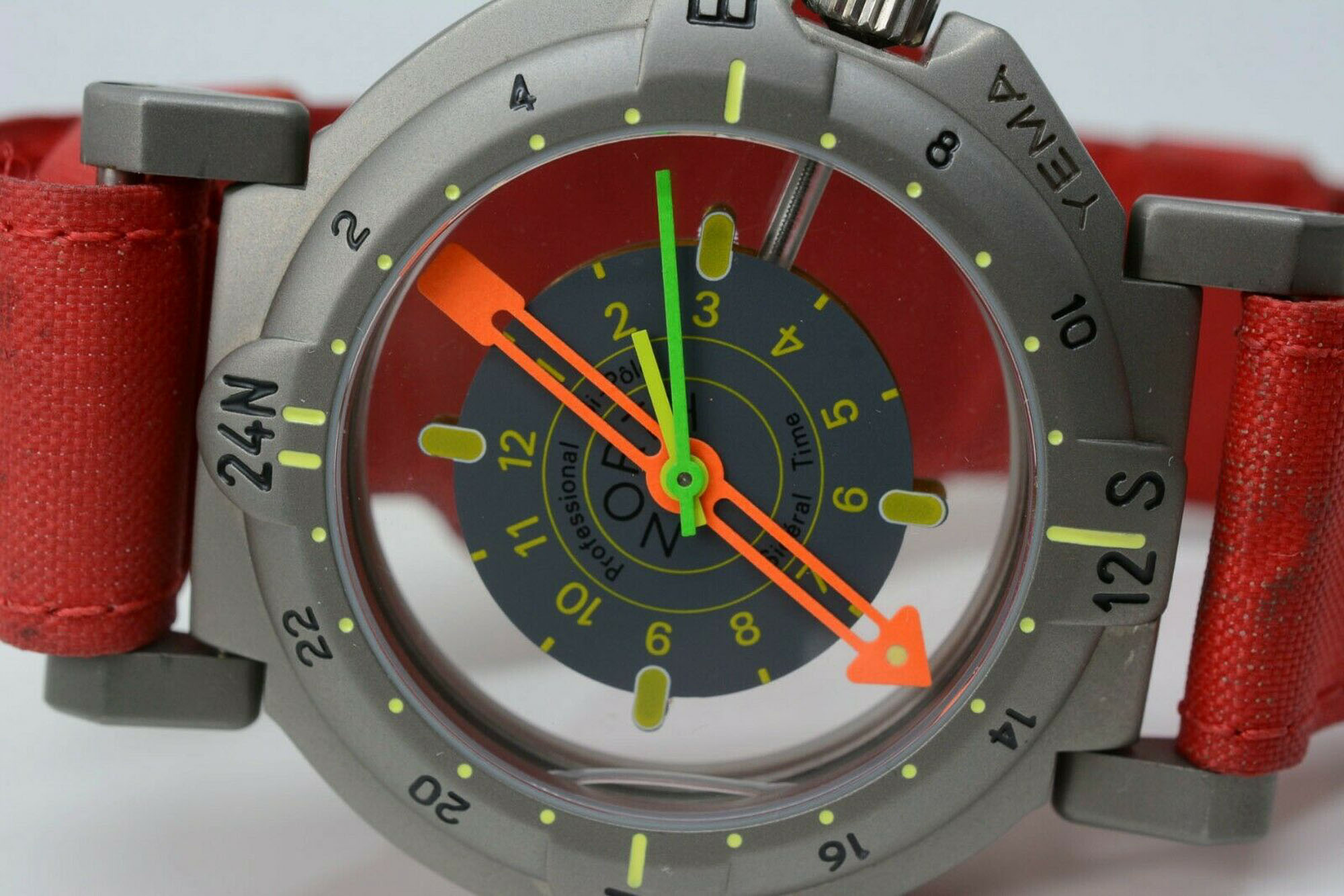 The red kevlar strap of the Yema is an undisputed precursor to the modern RM straps, further underlined by the velcro "buckle".
Need we give more proof? This is inarguably a Richard Mille before it became "Richard Mille".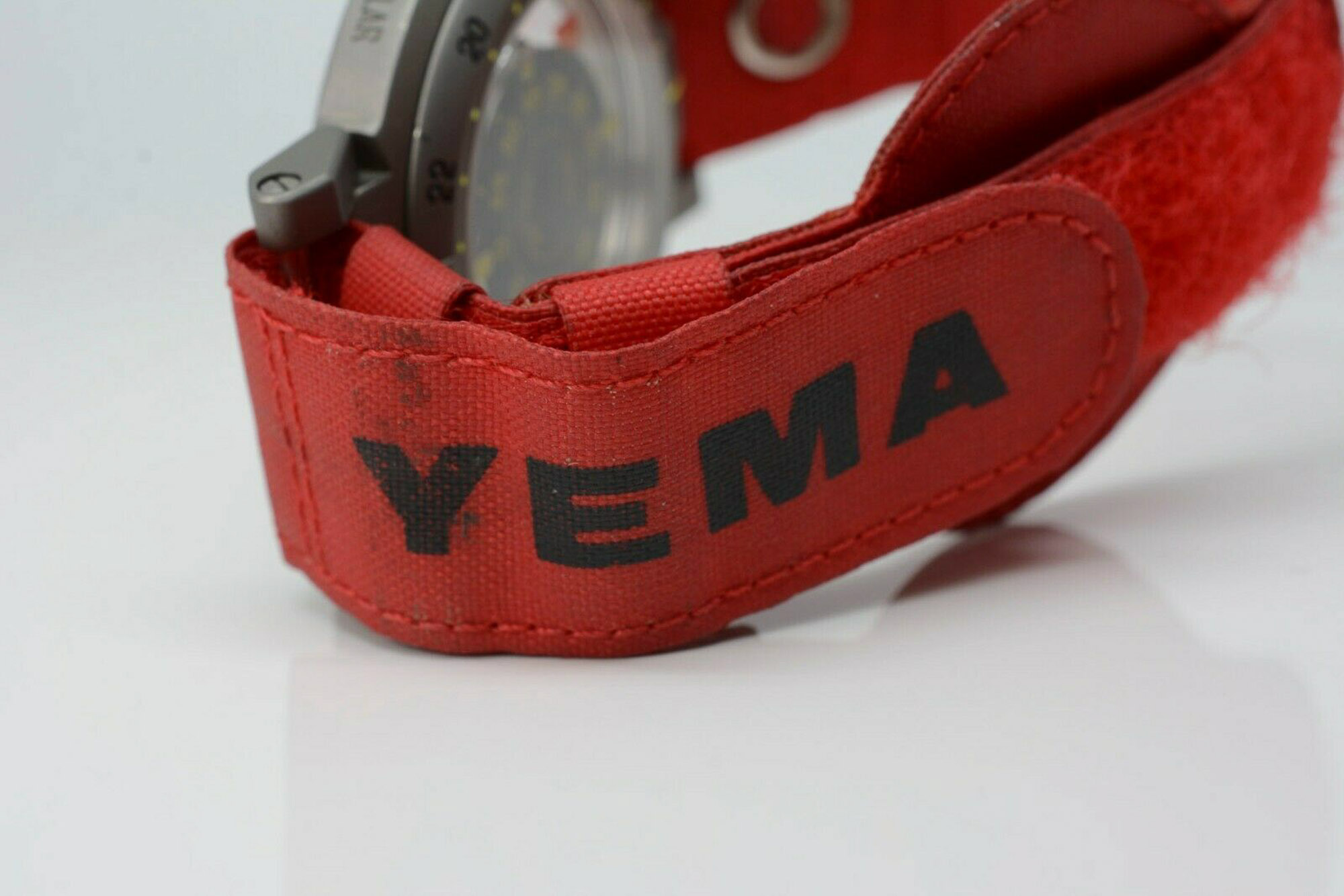 Upon close inspection, particularly of the hands, indices and (in some cases the overall design, feel and look) of the timepiece, you can clearly see some similarities to the modern-day Richard Milles – proof that even back in the 80s and 90s, the inventor had a pretty clear picture of what was to come next!
Have a look at the similarities in style and color of the hands:
And the indices, too:
Hey, what can we say? It may or may not be the new hottest thing like the revival of the Swatch Pradè, but if it is: we totally called it!
We think that the reselmblances are uncanny: an ode to what would become the iconic avant-garde brand that is Richard Mille.
– Translated by Patrick R.